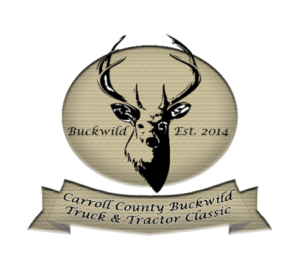 BUCKWILD TRUCK & TRACTOR CLASSIC
               TRUCK SHOW
Saturday, April 29th 2023
9:00AM – 3:00PM
Judging@12:00PM
Admission $15.00/Day $25.00/Weekend Pass
FOOD & BEER GARDEN AVAILABLE ON THE GROUNDS
No Pets, Outside Food & Alcohol Allowed Only Service pets allowed
Classes:   Trophies issued 1st and 2nd place for the following classes except for Best of Show
Bobtail Day Cab

v  100 –  2009 and older

v  101 – 2010 – 2019

v  102 –  2020 – Present

     Bobtail Sleeper

v  200 – 2009 and older

v  201 – 2010 – 2019

v  203 – 2020 – Present

Combo Tractor & Trailer

v  300 – 2009 and older

v  301 – 2010 – 2019

v  302 – 2020 – Present

Dump Trucks &  Tri Axles

v  400 – 1999 – older

v  401 – 2000 – 2009

v  402 – 2010 – 2019

v  403 – 2020 – Present   

v  450 – Cabover Truck

v  451 – Kenworth

v  452 – Pete Cabover

v  500 – Pick Up Truck
v  600 – Fleet Units 2 to 4

v  601 – Fleet Units 5 or more

v  700 – Construction Veh., Service Truck, Etc
v  800 – Service Truck Large

v  801 – Service Truck Small

v  900 – Large Wrecker

v  901 – Tow Truck

v  1000 – Antique Bobtail Truck
v  2000 – Antique Fire Truck
v  3000 – Street Rod Pick-Up
v  4000 – Straight Truck, Flatbed or Box Truck
v  Best Engine – (New class for 2022)
v  Best Interior – (New class for 2022)
v  Judges Trophy
v  Show Truck
v  Best of Show – Semi's
v  Best of Show – Dump Truck
v  Best of Show – Bobtail
v  Best of Show – Service Truck
RULES & REGULATIONS:
Show Management has the final authority.
No outside Alcohol, glass containers or pets allowed on the grounds.
All trucks must stay on the show lot until released by Show Management at the end of the event.  This is for the safety of all.
Support vehicles will not be allowed on the show lot. There are no exceptions.
Distribution of literature and the selling of any products on the show lot will be regarded as a commercial exhibit and is strictly prohibited.  Only paid sponsors/vendors may distribute literature and/or sell products.  Signs advertising products and/or services for any company are also prohibited. However, it is permissible to have one Thank You sign of modest size to mention the truck names, specs and suppliers of the truck by  name (no soliciting permitted) and placed within two feet from the truck.   Show Committee reserves the right to refuse entry to any party whose primary interest is for promoting their own private or commercial interests rather than the sole purpose of competing in Buckwild Truck & Tractor Classic.
Trophies will be handed out in front of the Finch Stage located in the Buck Miller arena directly after the Dirt Drags is completed approximately around 3:00 PM.
LIABILITY: All exhibitors and pullers herewith agree to indemnify and forever hold harmless the Carroll County 4-H FFA Fair, Inc. & Carroll County Agriculture Center for any damages, all losses, cost (including attorney fees), liability or expenses arising out of any liability or claim of liability for injury or damage to persons or property sustained or claimed to have sustained by reason or occupation of the facilities before, during or after the show/pull.