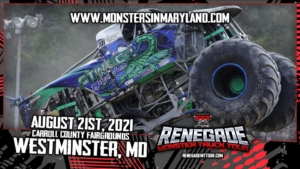 Concessions and Beer Garden Available- No outside coolers allowed
 7:00pm show is sold out!
Tickets: renegademonstertrucktour.ticketspice.com/carroll-county-ag-center-westminster-md-2021
RENEGADES Invade the Carroll County Fairgrounds on Saturday August 21st for the Renegade Monster Truck Tour!
The Renegade Monster Truck Tour features over 2 hours of pure adrenaline-fueled excitement for all ages!
High level and affordable family entertainment with tickets as low as $10!
Witness all the excitement the Renegade Monster Truck Tour has to offer such as!
World Class Level Renegade Monster Trucks that will compete in a physics defying Best Trick Competition, Nail-Biting Racing Competition AND a wild and carnage filled Freestyle Competition Featuring:
Stinger Unleashed: Zane Rettew
Pretty Wicked: Lindsey Rettew
Master Of Disaster: Leon Hostetter
Virginia Giant : Cliff Vowell
ALSO Featuring the wildest KIDS on the planet in the Wayne's Towing & Recovery Mini-Monster Trucks!
Stinger Unleashed: Ceejay
Pretty Wicked: Leah
Master Of Disaster: Payton
Toxic: Garrett
Make sure to come early and upgrade your experience with our FUN Zone & Track Party where you can get up close and personal with the 12,000lb Renegade Monster Trucks, go wild in the Bounce House, tear it up in our Renegade Wreck Pit, and get creative at the Renegade Monster Truck Tour Creation Station! And don't miss your opportunity to ride on a REAL Monster Truck at our Monster Truck Ride Experience!
Want to get the most out of your Renegade Monster Truck Tour experience? Purchase our brand NEW for 2021 premier level VIP Experience that includes:
-General Admission into the event with PREMIER VIP Only seating.
-Access into the Kids Fun Zone and Track Party.
-Ability to bypass the lines at Check-In at the front gate as well as FUN Zone!
-A 2021 Renegade Monster Truck Tour Poster!
-An exclusive VIP Renegade Monster Truck Tour Lanyard!
-AS WELL as Access to the exclusive post show Renegade Winners Circle Meet and Greet down on the track, in which you have the ONLY opportunity to meet all the Renegade Monster Truck Tour Superstars!
Only 200 Available, don't wait! Purchase your VIP Experience NOW!
Gates Open: 4:00 PM
FUN Zone & Track Party: 4:00-6:30 PM
Monster Truck Rides: 4:00-7:00 PM
Engines Fire: 7:00 PM
TICKETS ARE LIMITED – The only way to guarantee entry into the event is to purchase right now at 
www.MonstersINtheMaryland.com
Affordable Family Fun – The earlier you buy, the more your save! First 100 Adult Tickets just $10, 60% off the regular price!
1 HUGE SHOW – Saturday August, 21st!
 TICKET PRICING 
THE EARLIER YOU BUY – THE MORE YOU SAVE!
First 100 Adults & Teens – 60% Discounted Tickets! Just $10!
Next 200 Adults & Teens – 40% Discounted Tickets! just $15
Next 400 Adults & Teens – 28% Discounted Tickets! Just $18
Remaining Pre-Sale tickets – 20% Discounted until sold out! Just $20
All Advanced kid seats are only $10!
First 100 FUN Zone Track Party Passes – 28% Discounted Tickets! Just $5
Remaining Pre-Sale FUN Zone Track Party Passes – $7 per person
First 100 Advanced Ride Truck Experience – 33% Discounted Tickets are just $10!
Limited Tickets available day-of-show at increased price rate