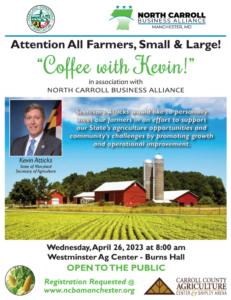 Attention All Farmers, Small & Large!
Coffee with Kevin is OPEN TO THE PUBLIC!
Located in Burn's Hall at the Carroll County Ag. Center @ 8:00am.
Secretary Atticks would like to personally meet our farmers in an effort to support our State's agriculture opportunities and community's challanges by promoting growth and operational improvement.
Registration Requested @ www.ncbamanchester.org
In association with North Carroll Business Alliance