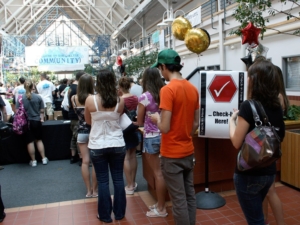 JOIN US FOR THE ANNUAL CARROLL COUNTY COLLEGE FAIR.
MONDAY, OCTOBER 10, 2022 | 6:00 P.M.– 8 P.M.
REQUEST INFORMATION
For more information about this event call 410-386-8430 or email admissions@carrollcc.edu
Visit colleges from all over the region, both in-state and out-of-state. All of the popular college destinations will be represented.

STUDENTS: Meet with representatives from more than 125 colleges and training programs. High school counselors will be available to answer any questions about post-secondary planning.
PARENTS: Speak with the Carroll Community College Admissions and Financial Aid representatives about dual enrollment, regular admissions and financial aid options.
CARROLL COUNTY AGRICULTURAL CENTER SHIPLEY ARENA
706 Agriculture Center Dr.
Westminster, MD 21157 United States
COLLEGES THAT WILL BE AT THE 2022 COLLEGE FAIR
Alabama (University Of)
Albright College
Allegany College of Maryland
Alvernia University
Arcadia University
Baltimore (University Of)
Barton College
Bowie State University
Bridgewater College
Bryant University
Bucknell University
Cabrini University
Capitol Technology University
Carroll Community College
Cedar Crest College
Central Penn College
Chatham University
Christopher Newport University
Citadel (The)
Clarkson University
Coastal Carolina University
Commonwealth University – Bloomsburg, Lock Haven & Mansfield
Community College of Baltimore County
Davis & Elkins College
Delaware (University Of)
Delaware Valley University
Dickinson College
Drew University
Duquesne University
Eastern University
Elizabethtown College
Elmira College
Embry Riddle Aeronautical University
Emerson College
Emmanuel College
Expanding Boundaries International
Fairleigh Dickinson University
Fashion Institute of Design & Merchandising
Florida Tech
Franklin and Marshall College
Frederick Community College
Frostburg State University
Garrett College
Geneva College
Georgetown University School of Continuing Studies
Goldey-Beacom College
Goucher College
Harrisburg University Science & Technology
High Point University
Hollins University
Hood College
Howard Community College
Immaculata University
Institute of Applied Agriculture at the University of Maryland
James Madison University
Johnson & Wales University
Juniata College
King's College
Kutztown University of Pennsylvania
Lebanon Valley College
LeMoyne College
Liberty University
Longwood University
Loyola University of Maryland
Lycoming College
Maine (University Of)
Marist College
Marshall University
Mary Washington (University Of)
Maryland Army National Guard
Maryland College Park (University of)
Maryland Eastern Shore (University Of)
Marywood University
McDaniel College
Messiah University
Millersville University
Misericordia University
Mount St. Mary's University
Neumann University
North Carolina State University
Norwich University
Notre Dame of Maryland University
Omega Studio's School of Applied Recording
Pace University
Paul Smith's College
Penn West University
Pennsylvania Academy of the Fine Arts
Pennsylvania College of Art & Design
Pennsylvania College of Technology
Pittsburgh at Johnstown (University Of)
Purdue University
Ready For College Writing
Rensselaer Polytechnic Institute
Rider University
Roanoke College
Rochester Institute of Technology
Saint Francis University
Saint Joseph's University
Saint Michael's College
Saint Vincent College
Salisbury University
Shenandoah University
Shepherd University
Shippensburg University
Slippery Rock University
South Carolina (University Of)
St. Mary's College of Maryland
Stevenson University
SUNY Maritime College
Susquehanna University
Temple Paul Mitchell Partner School
Tennessee (University Of)
Towson University
U.S. Coast Guard Academy
U.S. Merchant Marine Academy
UMBC – University of Maryland, Baltimore County
United States Coast Guard Recruiting Baltimore
Ursinus College
Utica University
Verto Education
Virginia State University
Virginia Tech
Virginia Wesleyan University
Washington & Jefferson College
Washington College
Waynesburg University
West Chester University
West Virginia University
West Virginia University Potomac State College
Wilmington University
Wilson College
York College of Pennsylvania