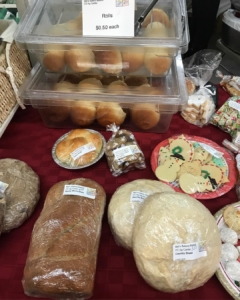 Don't Forget to place your orders by Wednesday, Dec. 13th!
On Saturday, December 16th, the Carroll County Farmer's Market is holding its last Christmas Market of the holiday season.  In case of inclement weather please see the home page of our website for any changes in times.  We will be open unless otherwise stated on the home page.
Food items include: farm raised beef, pork, lamb, farm fresh eggs, honey, and emu products, gourmet dips, jams and jellies, candy, cheese and wine.
This is your last chance to pick up all homemade baked goods, gourmet food items, seasonal decorations and plants, fresh wreaths, poinsettias and all handmade crafts and fine arts. We will be featuring beautiful live green arrangements from the Littlestown Garden Club.
The selection of items for gift giving is incredible. You can find pottery, handmade cloth purses, Christmas ornaments, blankets, jewelry, cookies, cakes, pies, scones, breads, fruit cake, and lots more.  Don't forget to place your orders with your favorite vendors.
Hours are 8am – 2pm.
Breakfast and lunch are served.
Admission and parking are free.
Located at the Agriculture Center in Westminster, Maryland.
Info: Anita 410-848-7748 or