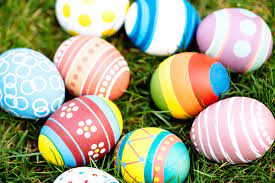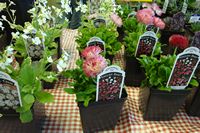 On Saturday, March 30th the Carroll County Farmer's Market will hold its Easter Show; the hours are 8am-2pm.  There will be a free drawing for vendor coupons to use at the Market on the 30th.  The Easter Bunny will also be present for photo opportunities.  So please bring your cameras. There will be vendors selling handmade candy and crafts to help fill Easter Baskets.
There will be between 75 vendors participating in this show.  Among the handmade crafts and fine arts available are wreaths and spring decorations, jewelry, pottery, painted wood crafts, soaps, baskets, and so much more.
Our food stands provide home baked goods, including cakes, pies, scones, cookies, breads, rolls and biscotti. You will also find jams and jellies, candy, honey, nuts, dip mixes, fresh eggs, emu products; farm raised beef, and much more.
Our plant vendors will be here selling spring perennials, annuals, herb plants, as well as house plants.
The cafeteria is open during market hours for breakfast and lunch. Pancakes and egg sandwiches are great for breakfast and don't miss out on a slice of homemade pie or cake.
Carroll County Farmer's Market
700 Agriculture Dr.
Westminster, MD 21157
Admission and Parking are free.
We are handicapped accessible.
Busses are welcome.
Follow the signs to "Ag Center".
For more info call Anita at 410-848-7748 or check out our website at
www.carrollcountyfarmersmarket.com