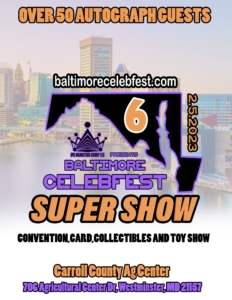 150+ vendors selling: Sports Cards, Memorabilia, Pokemon, Collectibles & much, much more.
Admission is $10 – Food and Drink available.  Hours are 9am – 3pm.
visit:  https://baltimorecelebfest.godaddysites.comf  or a list of over 50 autograph guest which is updated weekly.
For vendor availability or questions contact Chad Clark @  baltimorecelebfest@gmail.com or 443-800-2114.
For Pete Rose and Rick Flair autograph tickets please go to fitermansports.com to purchase. (signing is 12pm to 3pm)
List of Autograph Signers:
Rick Dempsy, Denny Martinez, Tippy Martinez, Al Bumbry, Benny Ayala, John Stefero, Paul Mirabella, Mike Bordick, Scott McGregor
Tony Schiavone, Gail Kim, Sonny Kiss, Christy Hemme, Shane Douglas, Cowboy James Storm, Tito Santana, Greg the Hammer Valentine, Trevor Murdock, Jameson Winger, Virgil, The Blue Meanie, Lanny Poffo, Rosemary, Ashley D'Amboise, Hollywood from G.L.O.W.
Wrestling Event: Doors open at 5:00pm – event starts at 5:30pm.
For Tickets – http://www.adrenalinewrestling.com  –  General Admission starts at $25.00