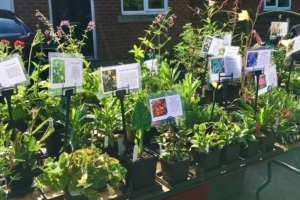 The University of Maryland – Carroll County Master Gardener's are having a Plant Sale and Garden Flea Market.
Saturday, May 18th – 8am – 12pm
Cash and Checks only!
Located in the Burn's Hall and Pavilion @ 700 Smith Ave. Westminster, MD 21157.
Plants are grown by the Master Gardeners and sold at reasonable prices & will help transport plants to your car!
Offering:
Perennials, Annuals & Herbs
Heirloom tomato & veggie plants
Native trees and shrubs
Garden Flea Market items
Bring boxes for your purchases, we may not have enough!
Have a gardening question – Ask a Master Gardener at the Plant Sale!
For more information please call the Maryland Extension Office – 410-386-2760.